Arrowheads at the end of a line
January 27 2010 | 4 comments
Categories: Cartographic Representations, Symbology
Hello,

I am trying to create arrowheads at the end of a line. Under properties, I change the type to "cartographic line symbol" and under the line properties tab I choose one of the arrowheads. However, when I change the thickness of the actual line, the end of the line seems to protrude through the front of the arrow (I have attached an example). I have tried many things such as changing the x offset of the arrow but nothing seems to work. I checked the forums and noticed this has been a problem since at least 2002. Is there a workaround to this issue? Thanks.
Mapping Center Answer:
There are a couple of cartographic representations solutions that will probably work for you. One solution is to move the arrowhead along the line and the other is to clip the line so it does not extend past the narrower part of the arrowhead.
For the first solution, you will need to reset the Position value for the marker symbol. Here is the help topic associated with the concept.
This is from the help:
Position: Indicates the distance from a specified location of a line that a marker will be placed. The distance is applied along the line. The default value is 0 (zero) pt.
Relative to: Indicates the specified location of a line from which a marker will be place. The choices are Line middle, Line beginning and Line end. The beginning and ending of a line are determined by the direction in which the line was digitized. The default value is Line middle.
Angle to line: Indicates whether or not markers will be oriented to the line. If unchecked, the markers will be angled to the top of the page. The default value is checked.
So you would change the Position value relative to a location on the line to move the arrowhead. The instructions are here.

The problem in ArcMap.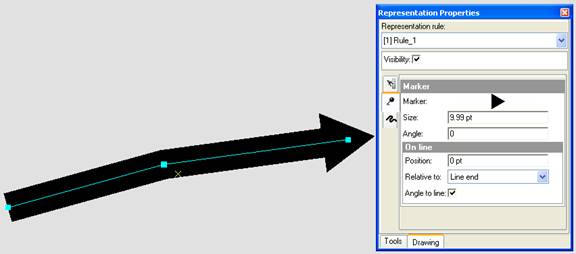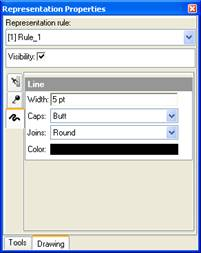 The solution using Position to reset the marker placement.
For the second solution, what you do is to clip the symbol geometry of the line so that it ends before the arrowhead narrows. Note that you will NOT be clipping the actual feature geometry. For this effect, you will need to use the Cut geometric effect. Here is the help topic associated with this topic.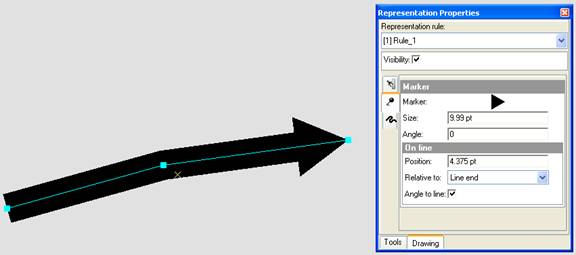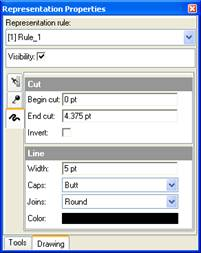 Use of the Cut geometric effect (the value 4.375pt is created automatically when converting to representations).
If you would like to post a comment, please login.