How to make a graphic polygon with rounded corners?
March 04 2010 | 0 comments
Categories: Map Elements
I have various pieces of information on my map that I want to surround with a graphic rectangular polygon with slightly rounded edges. I'd like to make most of the elements and graphics in the map with rounded edges. How do I do that?

I know I can create a legend box with rounded corners and then convert to graphics but that is a little complicated for what I want. Is there an easier way to make rectangles with rounded edges?

Thanks
Mapping Center Answer:
Inserting boxes around your map elements that have rounded edges is simple. On the top bar menu, click Insert -> Neatline. You have the option to first select all the elements you want to apply this effect to and then set it just once so all the elements look similar. You also have the option of setting the rounding, the neatline color, width and type, the background fill, and even a drop shadow. You can also set the gap between the box and the elements. In addition, you can group the neatline with the elements if you want to.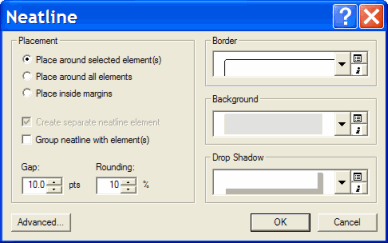 A note of caution -- overuse of this type of effect on a map can be detrimental for a number of reasons:
It detracts attention from the main focus, which should be the map.
It restricts eye movement across the page to some extent (the eye has a harder time flowing freely across the page, as when you have few or no bounding boxes.)
It can turn into "chart junk" (a term introduced by Edward Tufte that refers to ink on the page that holds no additional meaning for the reader.)
So just be careful that you don't get too over-zealous in the use of this cartographic effect!
If you would like to post a comment, please login.