Bike Race Style Set
August 22 2011 | 0 comments
Categories: Symbology
I am looking for a Bike Race Style set similar to the Tour De France symbols... does anyone have or can anyone make one?

Start = Blue circle with white arrow/triangle
King of Mountain = Red circle with the number indicating the climb's rating (which I never found)
Sprint = Green circle with a white S
Feed Zone= blue circle with spoon/knife or other utensils
Finish = Red circle with white checkers
Mapping Center Answer:
We have made one which contains the simple markers and three line types that are similar to the Tour De France symbols. The Le Tour Style contains one Esri, Inc. created Le Tour True Type font that was used to create the ArcGIS style (Esri Le Tour - LeTour.ttf) and a specialized style containing the line and marker symbols (Esri LeTour.style).
To access the style in ArcGIS, download the attached zip file and unzip the contents. Then install the font (LeTour.ttf) into the Windows/Fonts directory (usually C:\Windows\Fonts). The font is needed in order for the symbols to appear correctly assembled when using the style in ArcMap. The style file (Esri LeTour.style) should be saved in a suitable location such as the ArcGIS\Desktop10.0\Styles folder and can then be added to ArcMap using the Style Manager.
Below is an example map that we made with the style: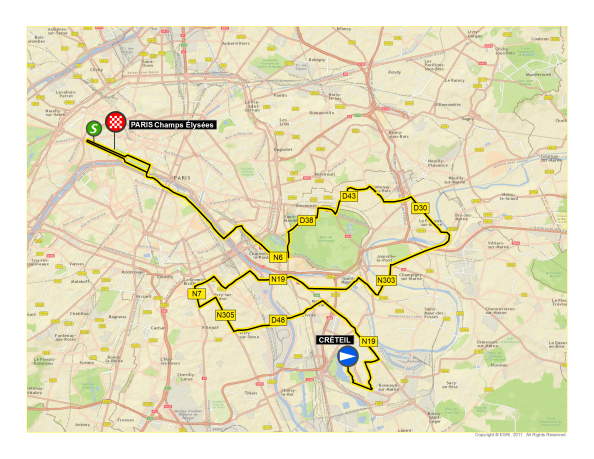 If you would like to post a comment, please login.