Can 3D Symbols be rotated in ArcMap
September 25 2011 | 2 comments
Categories: 3D Mapping, Symbology
Hi Mapping Centre, I have tried all the options (set up a rotate field, tried rotate axis, & 3D placement but cannot seem to rotate a 3D symbol in ArcMap. Is this possible? Thanks in advance.
Mapping Center Answer:
This looks like a bug which we will be checking into. Thanks for alerting us!
In the meantime, there are a couple of workarounds that you could try. Basically, when this kind of 3D Symbol (to be clear, a 3D Marker Symbol) is shown in ArcMap, we just show a bitmap version of the symbol. The problem is that the bitmap image is not honoring the rotation-per-feature value (driven by attributes), or the rotation-of-the-whole-symbol option. So one workaround is to define/change the bitmap manually, as shown in the graphics below.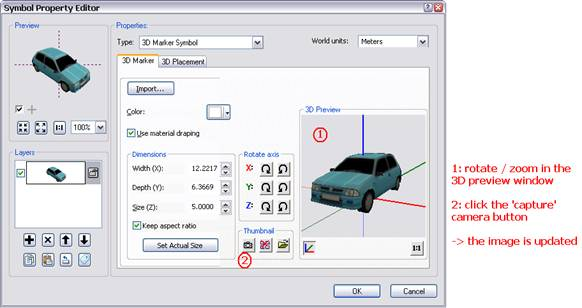 The other solution is to use a different layer in ArcMap -- that is, the 3D symbol is not being displayed anyway, so if the rotation is important then just use a picture-marker symbol in the map document and leave the 3D symbol in the 3D doc.
If you would like to post a comment, please login.