polygon representation symbology
August 26 2008 | 4 comments
Categories: Symbology
How to prepare representation symbology for country border as shown on the picture with no color inside of polygon (on the picture polygon is colored white).
Mapping Center Answer:
BUFFER WITH A LINE FILL SYMBOL
You can achieve this effect using a buffer with a line fill symbol. First create a buffer that is as wide as you want the symbol to be (note that the symbol units are usually in points, mm, cm, or inches but the buffer width will be in ground units since you will actually be creating a geographic feature).
I find that the easiest tool to use for this is the Buffer Wizard. To add this to your interface, click on Tools on the top bar menu, then Customize. Then click the Commands tab and scroll down to click Tools in the left panel. In the right panel, locate the Bufffer Wizard tool, click and hold while you drag it to one of the toolbars on your interface.
With this tool, you can specify that you want to create only an outside buffer. This is the feature you will then symbolize with the line fill symbol. Once the buffer is created, right click it in the Table of Contents, click the Symbology tab, click the Symbol, then click Properties. Change the symbol to a Line Fill Symbol using the drop down menu for Type: at the top of the Symbol Property Editor. Change the angle to 45, set the separation to define the spacing between the lines in the fill pattern, and change the color as you wish. Click Outline to set the color to No Color. Then click OK to accept all changes.
The last thing you need to do to create the effect in your attachment is to symbolize the original polygon with a line that is the same color as the one you used for your line fill symbol. Here is the result I got using this method: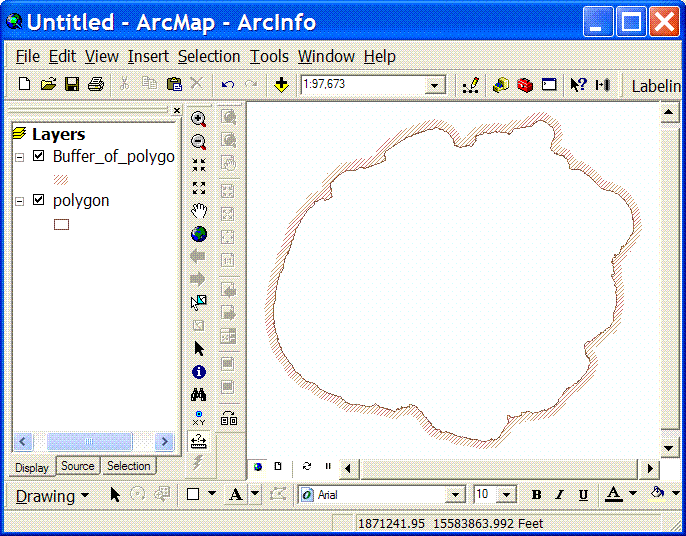 CARTOGRAPHIC REPRESENTATIONS
You can also achieve this effect with cartogrpahic representations -- here are the steps:
Create a representation rule for the polygon. Set the fill symbol to whatever symbol you want to see in the buffer.
Add an offset geometric effect with offset = 7mm.
Add a Donut geometric effect with Width = 7mm.
Make sure that the rules are added in this order, Offset first, the Donut.
Here is what the interface will look like: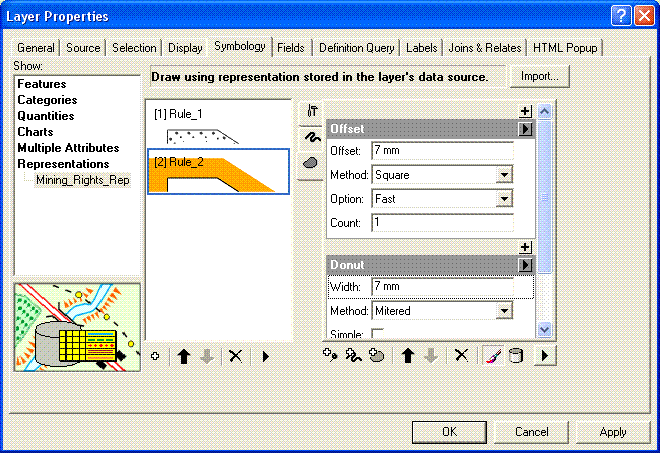 If you would like to post a comment, please login.