Coastal Vignettes
July 24 2009 | 4 comments

Hi there, I used the buffer wizard to attempt to create a coastal vignette for our area (the Kenai Peninsula Borough). The attached file shows that it was successful in some areas, but not for the primary part of the polygon I wanted to buffer - the Kenai Peninsula.

I used 10 buffer rings, 1 km between rings, and created buffers so they are only outside the polygon. I also tried buffering so that they are only inside the polygon, and that did not work either.

Any advice? And thank you for this site, it keeps us motivated to create better looking maps!
Mapping Center Answer:
Hmm – I cannot get it to buffer either so I suspect it might have something to do with the complexity of the shoreline. However, I think there might be an easier solution. I used the Euclidean Distance method instead and had not problem – it worked really fast and I can symbolize it easily. The results are below: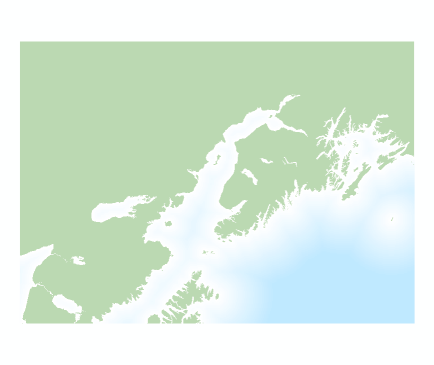 If you want less white along the shore, that's easy – I just created a new color ramp (I looked at the specifications of the Bathymetry_1.10 style and then created a new multipart color ramp that has two algorithmic color ramps - the first one ranges from white to HSV 201,25,100, and the second ranges from HSV 201,25,100 to HSV 201,25,100 - this stretches out the blue and reduces the amount of white in the color ramp):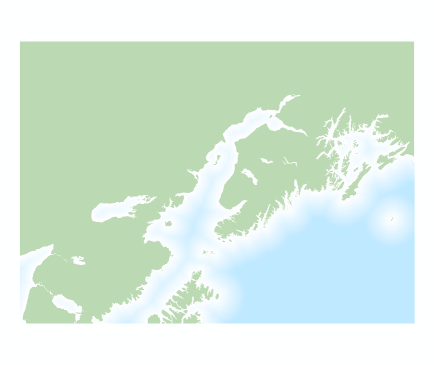 To create the coastal vignette effect using the Euclidean Distance method, here are the steps:
Open ArcToolbox, and in the Spatial Analysis toolbox, there is a Distance toolset – open the Euclidean Distance tool.
Use the Alaska polygon as the input feature source data (no need to make it into a raster first).
Check the output cell size – you can also do this after you get the results to se if the resolution is fine enough – if it isn't, just run the tool again with a smaller cell size. There is no need to set a maximum distance and no need to create a Euclidean Direction raster.
Once the raster is created, you can symbolize it using a color ramp in either stretched or classified mode.
Note that I used one of the color ramps out of the new ColorRamps2.0 style that you can download from the Mapping Center – ArcGIS Resources: Styles page – it has a set of bathymetric color ramps in the Hypsometry style.
We also wrote a white paper on both buffer and Euclidean Distance coastal vignettes.
Hope this helps even though it doesn't solve the puzzle of the buffer results!
If you would like to post a comment, please login.